MASK is showing right now at dk Gallery, and it's absolutely captivating. Each piece represents a new face, a new expression, a new experience. From Wyanne Thompson's pissed-off, fearless lovers to Ginger Oglesby's hidden features, each piece is unlike any other. Sadness, elation, and mystery abound in this latest installment on the White Walls.
Three of the featured artists in MASK are Shellie Lewis Crisp, Holly Irwin and Jennifer Gibbs. For Irwin and Gibbs, faces are rare territory. Crisp, however, is known for her faces because of their ethereal, fable-like quality. Looking at them is like stepping into a twisted fairytale where a melancholic whimsy tints each character.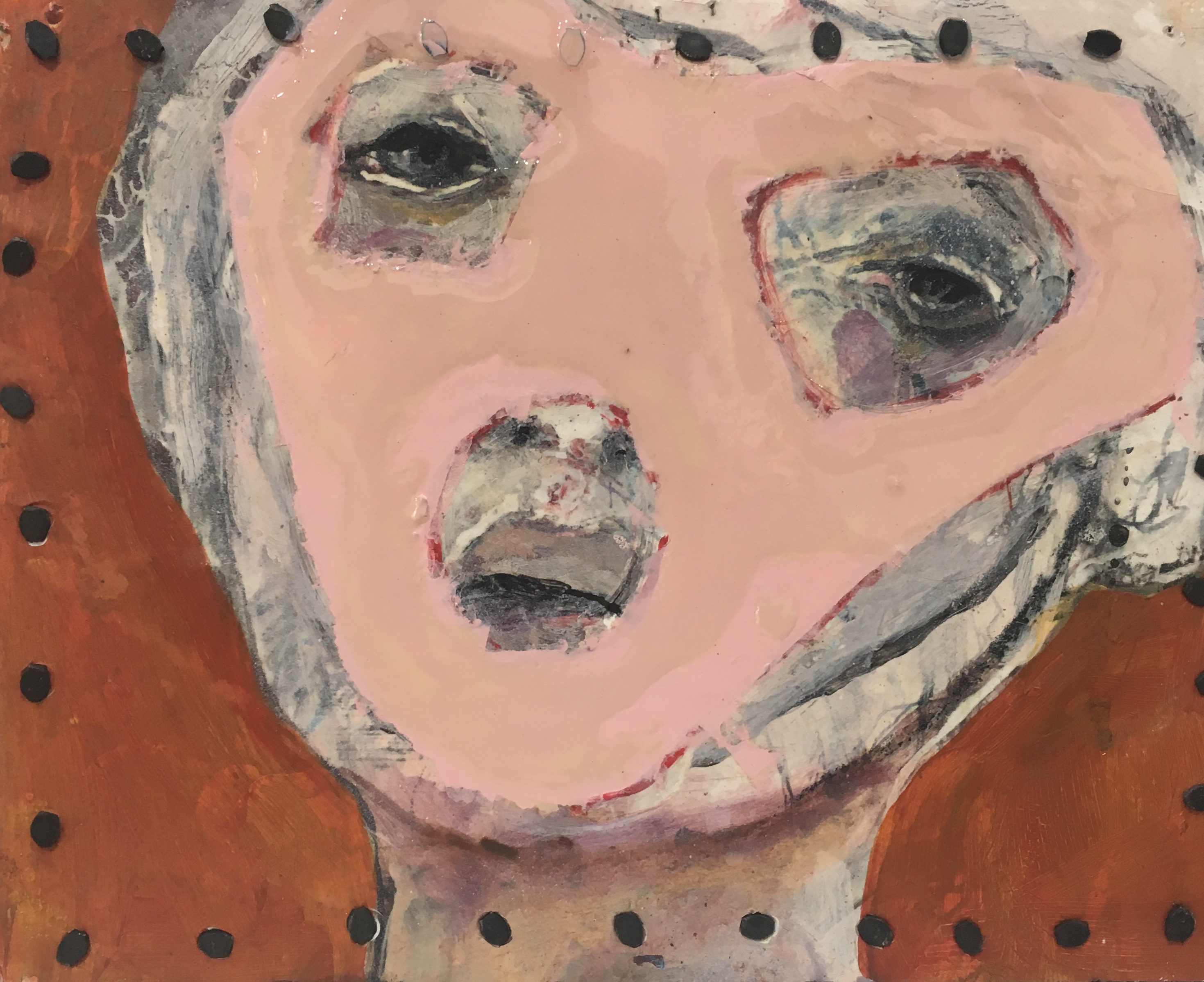 "Pink Coverup," Shellie Lewis Crisp
Crisp says, "I am drawn to the face, especially a woman's, for the depth of layers of experience and life scars. I feel a freedom in painting, and allowing the face to speak and convey a history brings me joy and satisfaction."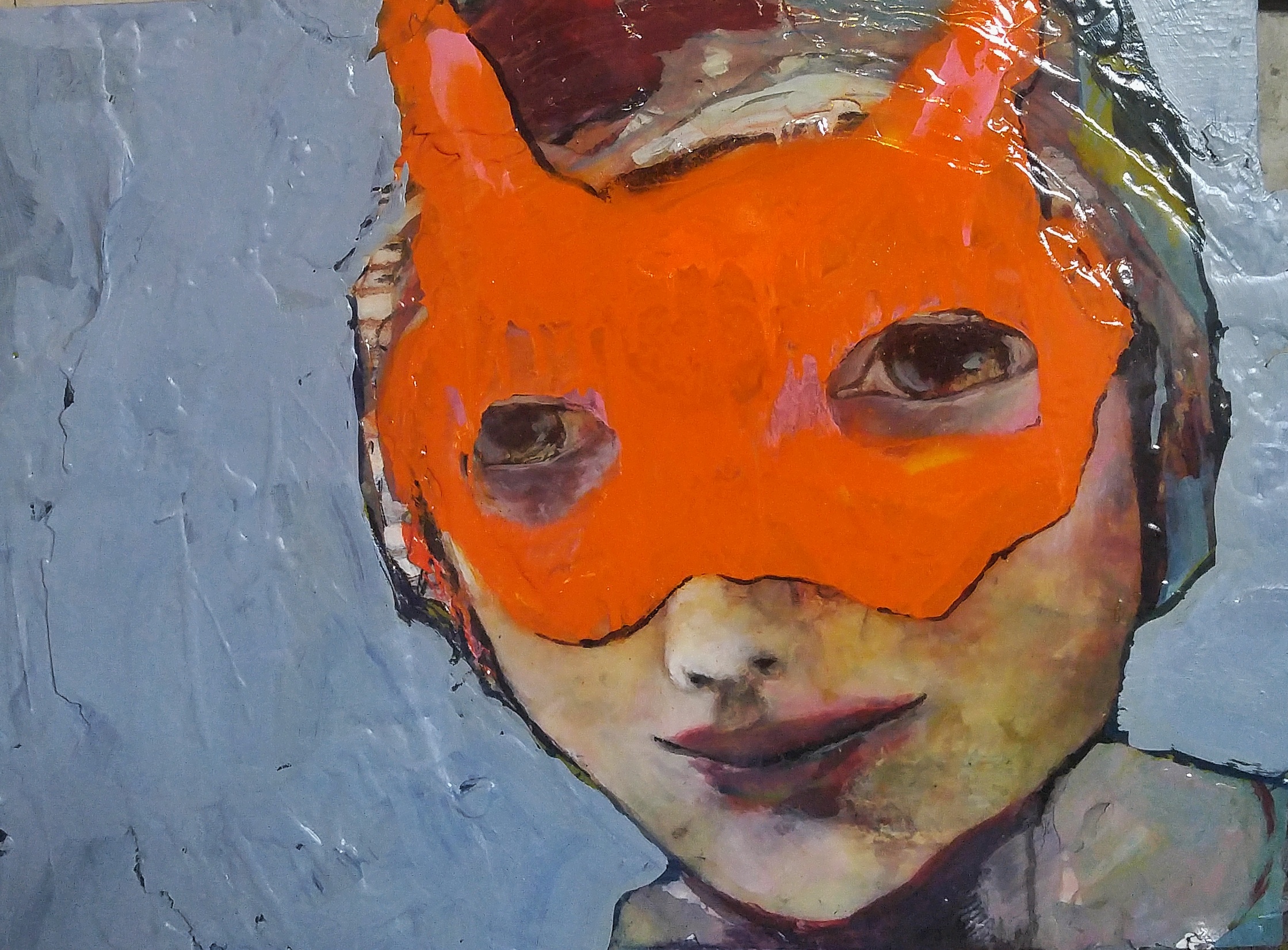 "He Devil," Shellie Lewis Crisp
She goes on to say, "My style evolved from a process of mark-making and writings about how I am feeling at the time. Layers build with mixed media and oil paints to capture a glimpse of the under-writings and marks. I strip these words and add more. As I apply epoxy and more oil, as the face begins to form, through conversation with her, she comes to life."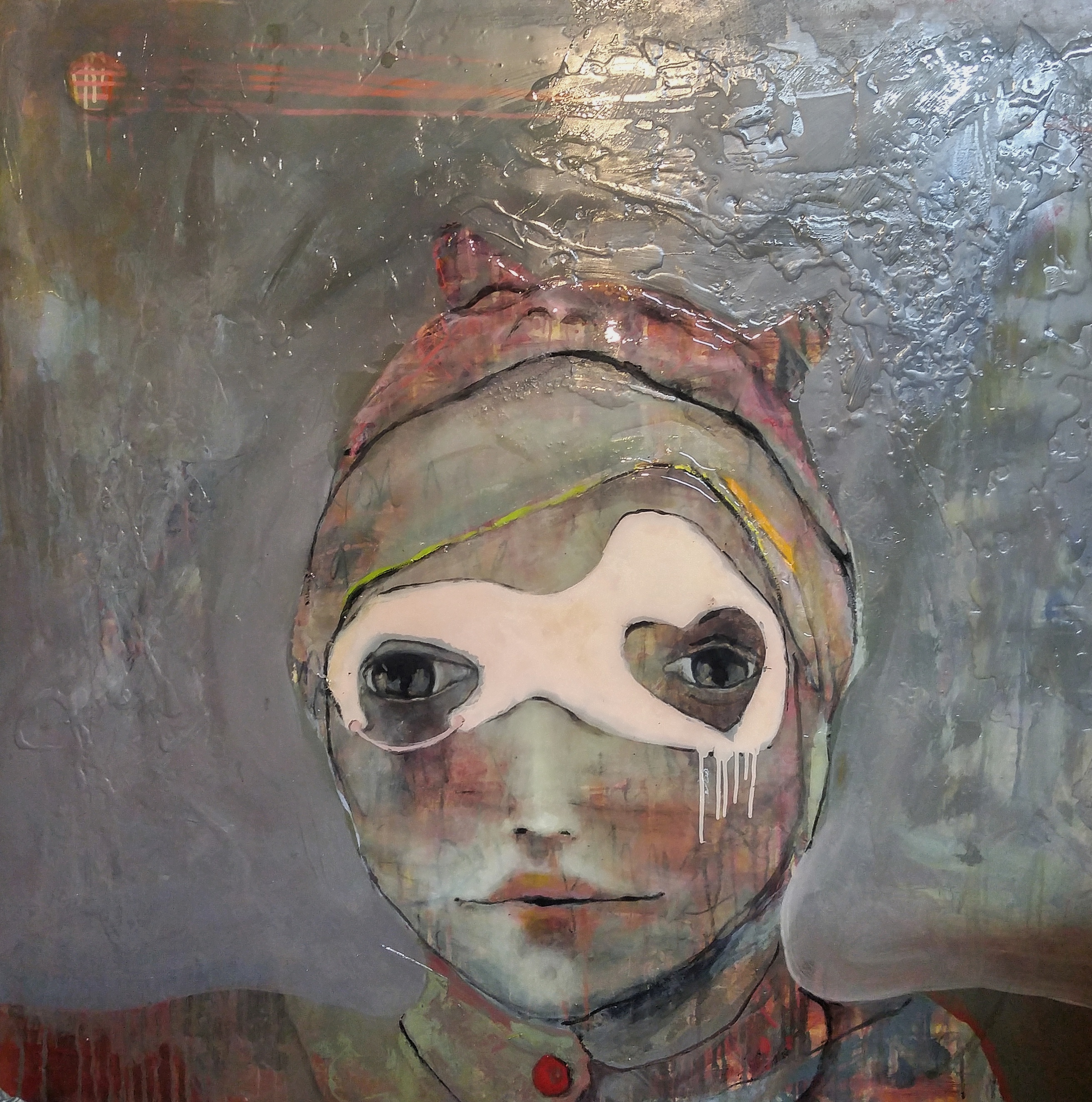 "Fight or Flight," Shellie Lewis Crisp
About the MASK work, she says, "Some are a literal understanding of a mask to me: a simple, solid covering of the face.  A simple way we disguise ourselves. Other paintings grow to be less literal and a hidden mask of thoughts and character." 
Holly Irwin's work usually feature faceless figures, clad in classic fashion and elegant gowns. About the faces, Irwin explains, "I enjoy drawing and painting faces occasionally as a change of pace from my figurative work which is my main focus. I'm not a portrait artist, and I don't use models for my faces. Instead, I like to paint intuitively. The faces emerge as a result of what I'm feeling. It's enjoyable because there's no pressure to make them look a certain way as with a portrait."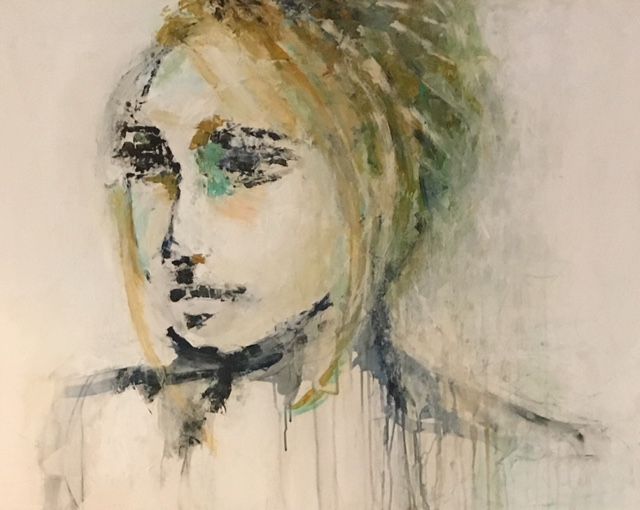 "Amelia," Holly Irwin
About the difference from her figurative work, she says, "I feel that the faces are an extension of my figurative work. The inspiration comes from all the same places. Painting technique really doesn't differ too much. Most of this new work was done with a spatula as my painting tool. In a few of the pieces, like 'Amelia' and 'Gretchen,' I also used a brush. Imagine that!"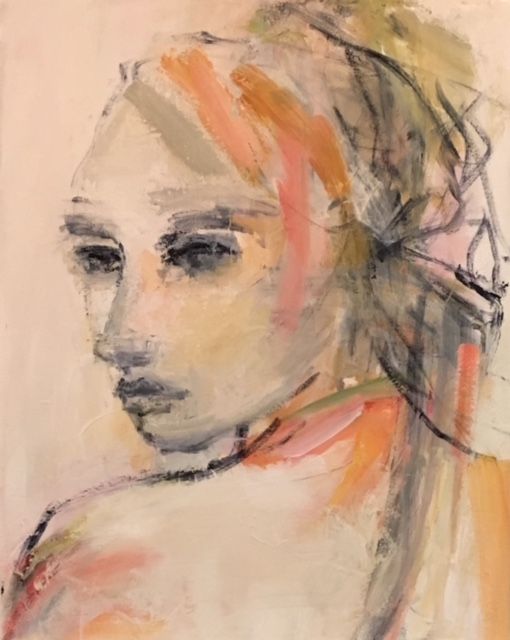 "Gretchen," Holly Irwin
Irwin illuminates the inspiration behind the work: "I'm inspired by color, texture, beauty, emotion. Sometimes that comes from nature. There are flowers in many of my face pieces. I often find inspiration in couture fashion. The folds and fabrics that I study may bring about a certain feeling that I want to achieve when I'm translating that into a face. An example is my new piece titled 'Gretchen.' Instead of a regular hair color, she seems to be wearing ribbons in shades of pink and orange — definitely inspired by fashion. Emotion is also an inspiration. When you look at the painting titled 'Lillian,' you can tell then I was in a very quiet, reflective mood that day. A bright mixed media painting simply would not do. It had to be a muted oil painting. 'Amelia,' my largest piece in this series, came about as an emotional response as well. On the flip side of that are the bright, colorful pieces like 'Casey,' 'Candace' and 'Jack,' facing straight on in a very direct, confident manner."
"Candace," Holly Irwin
Jennifer Gibbs is known for her geometric, sweeping abstracts, her work almost never representational. Gibbs is fairly new to the gallery, and MASK was her first show with featured work. The faces portrayed in the show were an exclusive series conceived especially for MASK. Charcoal faces surrounded and adorned in acrylic paint, the faces have a distinct 1960's style. On the influence of the vintage style on her paintings, Gibbs says, "Lesley Hornsby, aka 'Twiggy,' was the inspirational face for all the portraits. I morphed her features slightly so she would appear like different women. I love the 60's style and would love to bring back dark smudged eye make up, graphic earrings and flower-printed capes."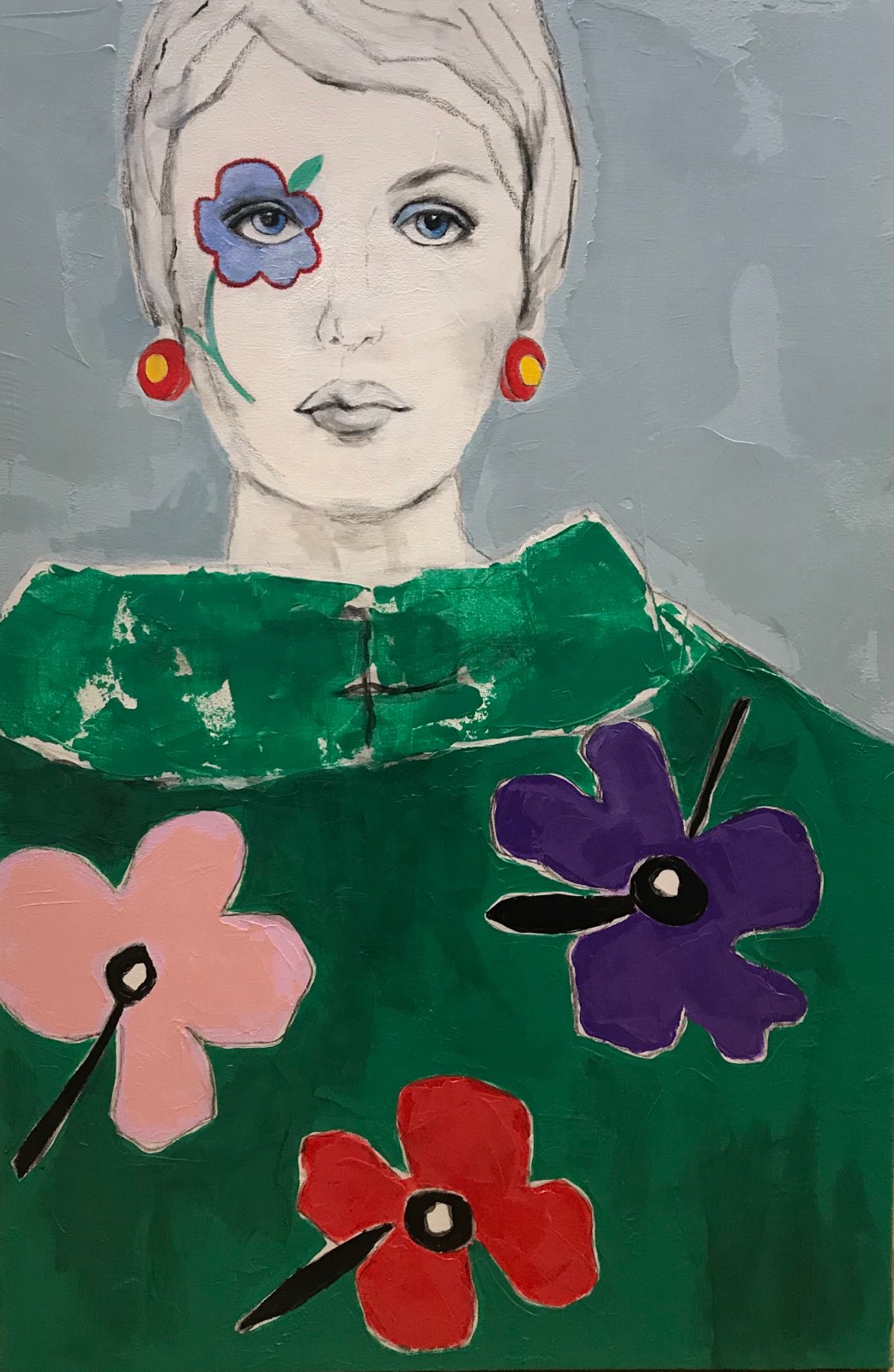 "Flower Child," Jennifer Gibbs
She expands on using charcoal as the medium for the faces of the women: "I love smudging charcoal! There is a beautiful simplicity in charcoal portraits that I have always admired.  I actually thought about this show for two months before executing any work.  I wanted something unique for the dk MASK show.  The rest of the painting had to be bright colored to grab the viewer, it was entirely too drab done in all charcoal."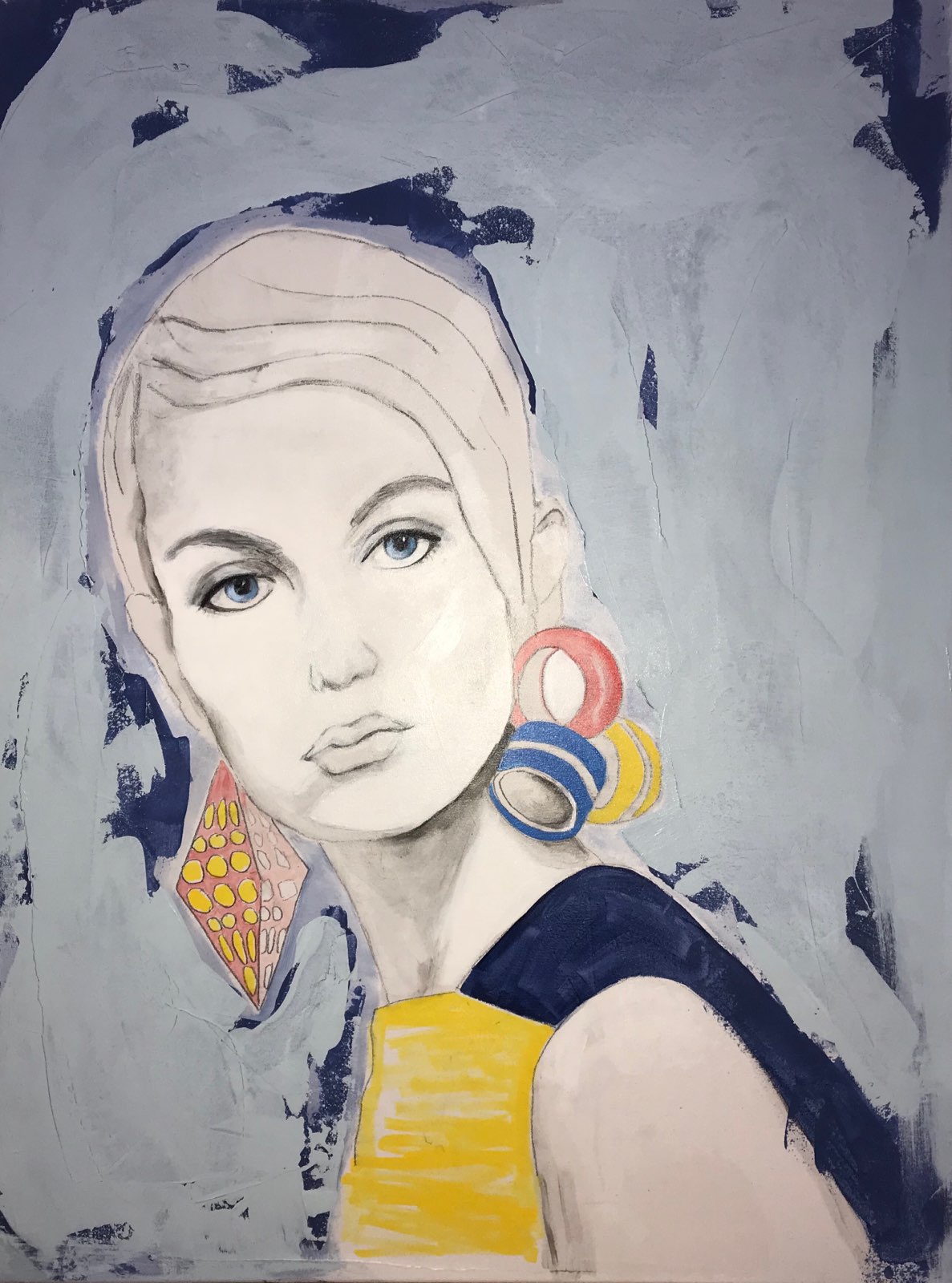 "Cecile," Jennifer Gibbs
On the break from her figurative abstracts, she explains, "My mother was a portrait painter, so she instilled in me a critical eye for artists that paint figuratively.  You have to have a lot more focus when painting portraits. I've grown to love it: it's like a puzzle, making sure everything fits.  After painting abstract for a while, I start craving form and structure. It's like balancing both sides of the brain."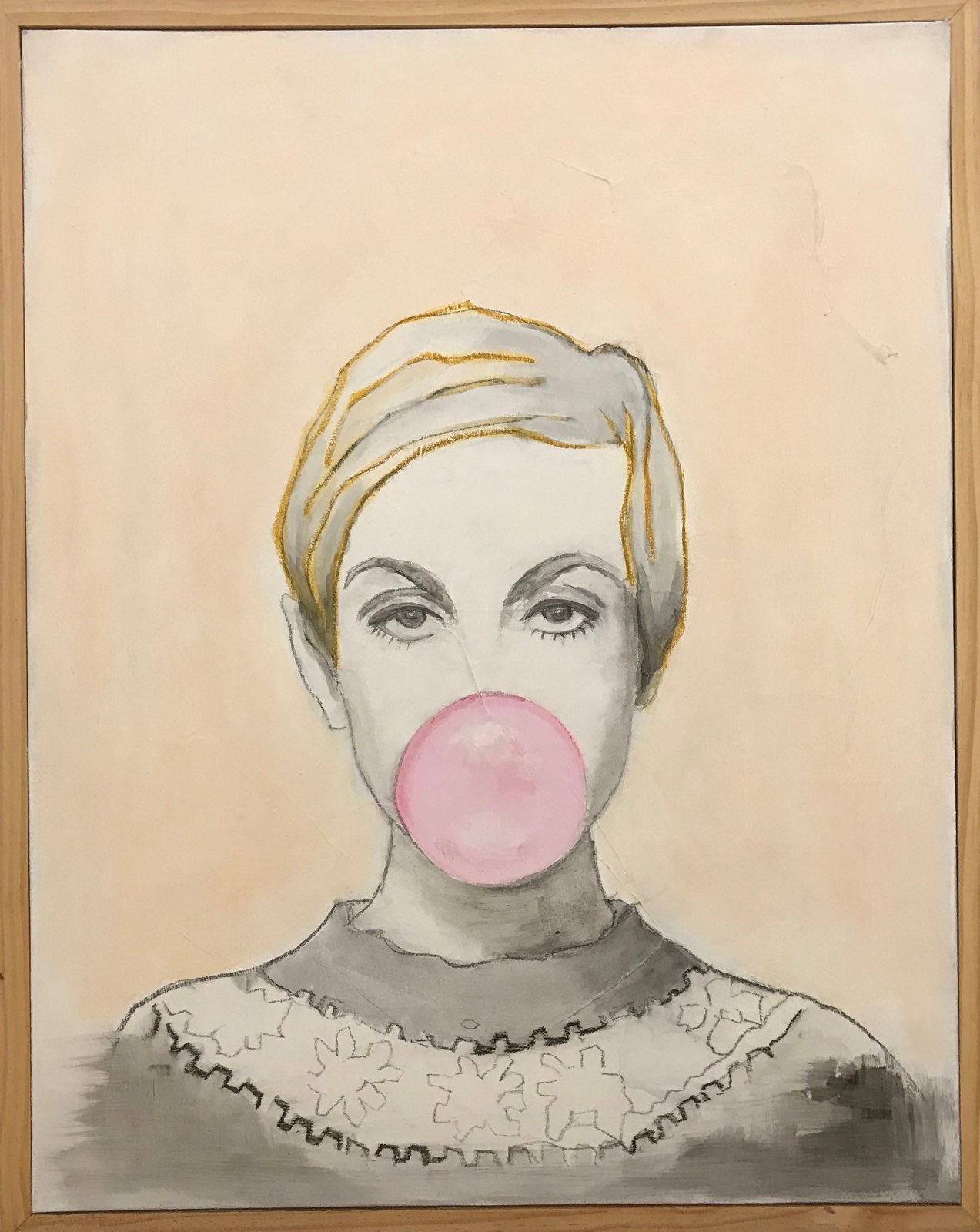 "Lesley Bubble," Jennifer Gibbs
For more artists and more work, stop by dk Gallery throughout the month of July to see the MASK show, or visit us at dkgallery.us!
by Lily Tischner