Review: Celebrate Photography
11/9/2021
Review: Celebrate photography
By Molly Brown
On the chilly evening of November 5, Atlanta and its surrounding metropolitan areas were buzzing with excitement. The Atlanta Braves had just won the World Series and the fresh breath of fall had finally arrived after a hot and seemingly endless summer. Amid all the bustle, dk Gallery was having a celebration of its own with its first ever photography-only show. By joining forces with Atlanta Celebrates Photography, the largest photo festival in the country, guests were able to see a wide array of work from photographers including Corinne Adams, Lauren Chambers, John Kirk, Judy Lampert, Laura Noel, Susan Richman, Beate Sass, and Brooke Shaden.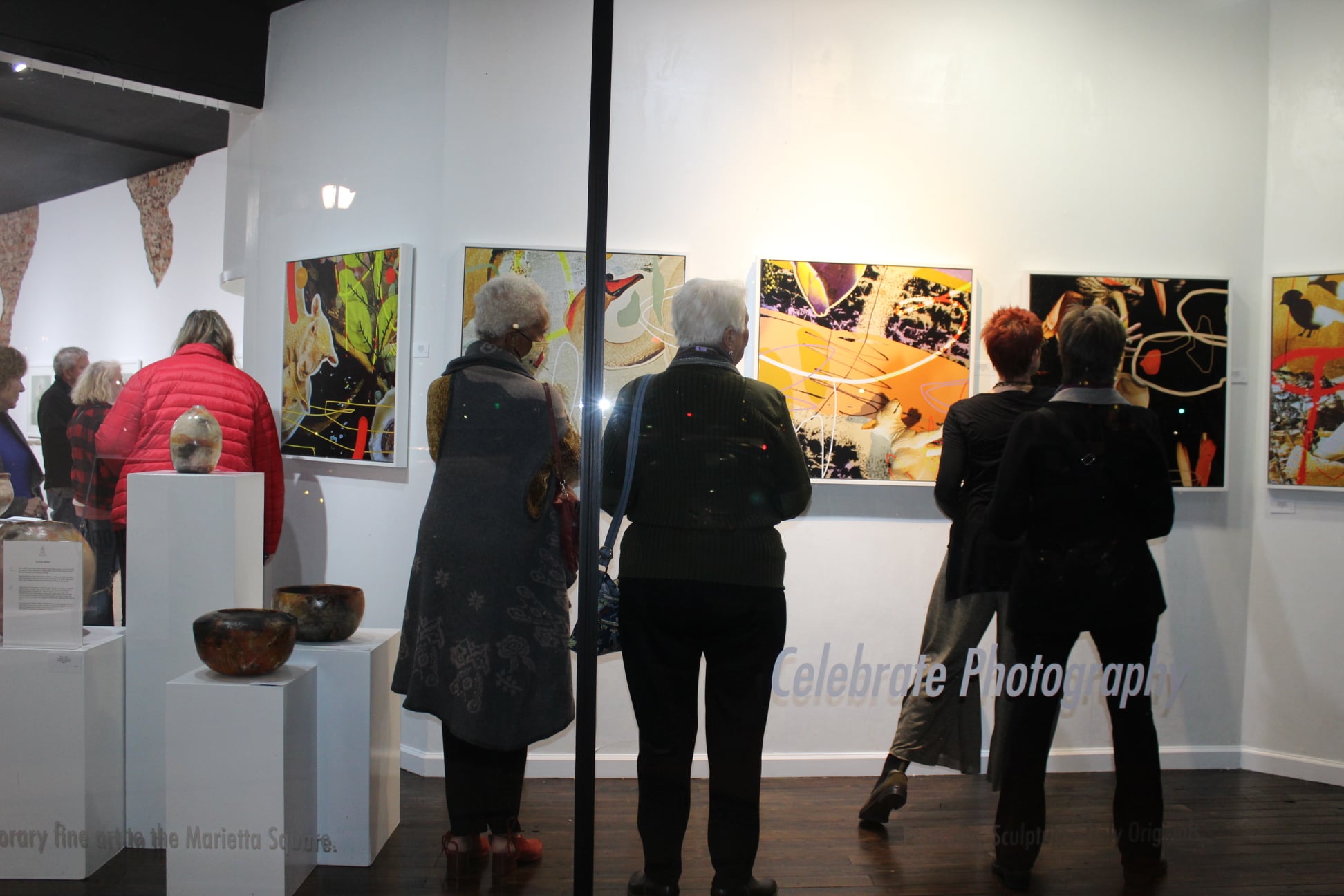 Atlanta Celebrates Photography (ACP) is a non-profit organization that is dedicated to nurturing the photographic arts and evolving the art community in Atlanta. dk Gallery was honored to headline ACP's co-founder and photographer Corinne Adams. While on a roadtrip years ago, Adams and her friend Suzanne Katz founded ACP to give people a space to appreciate photography and recognize it as its own art form. "When you look around this gallery, do these pieces look like photos?" Adams inquired. "Photography is in a realm of its own and it continues to evolve in how it's becoming more surreal; it's different from a painting because photographers have to be able to see the world the way it's presented in front of them and find the beauty in that." The work of Adams without a doubt exudes the surrealism of photography and makes the viewer feel almost as if they are gazing into a dream. Adams achieves this look with methods like ripping up existing images and placing them on the ground to then put other objects on top of them such as animal figurines or seashells. She re-photographs this and later adds extra elements in Photoshop to create a truly distinctive final product. Adams' point of photography being in its own league was apparent in dk Gallery's show as the visitors were treated to some truly special pieces that exceeded expectations.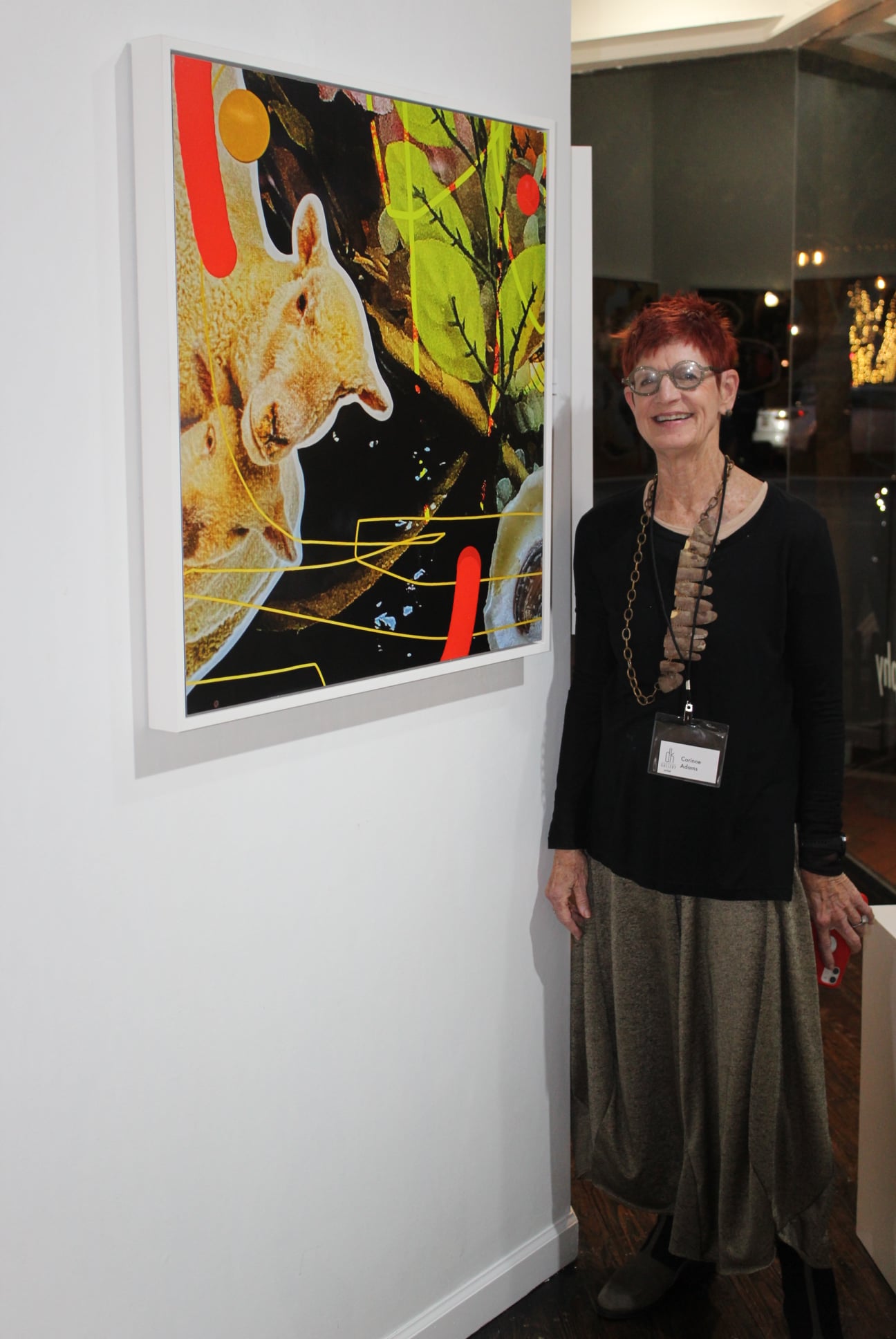 Photographer Judy Lampert was among the artists represented in the show, exhibiting her interior photography work. Lampert's photos distinguish themselves in the way they utilize various angles of a space and focus on an aspect of a room that may be unexpected. "I am not going for architectural, but more of an intimate and quiet feel," Lampert said. "I want it to feel like it is your own space and for you to be present in it."


Another photographer was Laura Noel, whose eye-catching pieces were the product of play and experimentation. Her work in the show were images of ancient Greek busts overlapped by vibrant, translucent colors and shapes. She achieved this look by adding the colorful after effects in Photoshop, a technique more and more photographers are using to add dimension to their work. "I was going for a time travel vibe," Noel said. She undoubtedly captured this feel by pairing ancient work with pops of color that almost conveys a retro 1960's tone.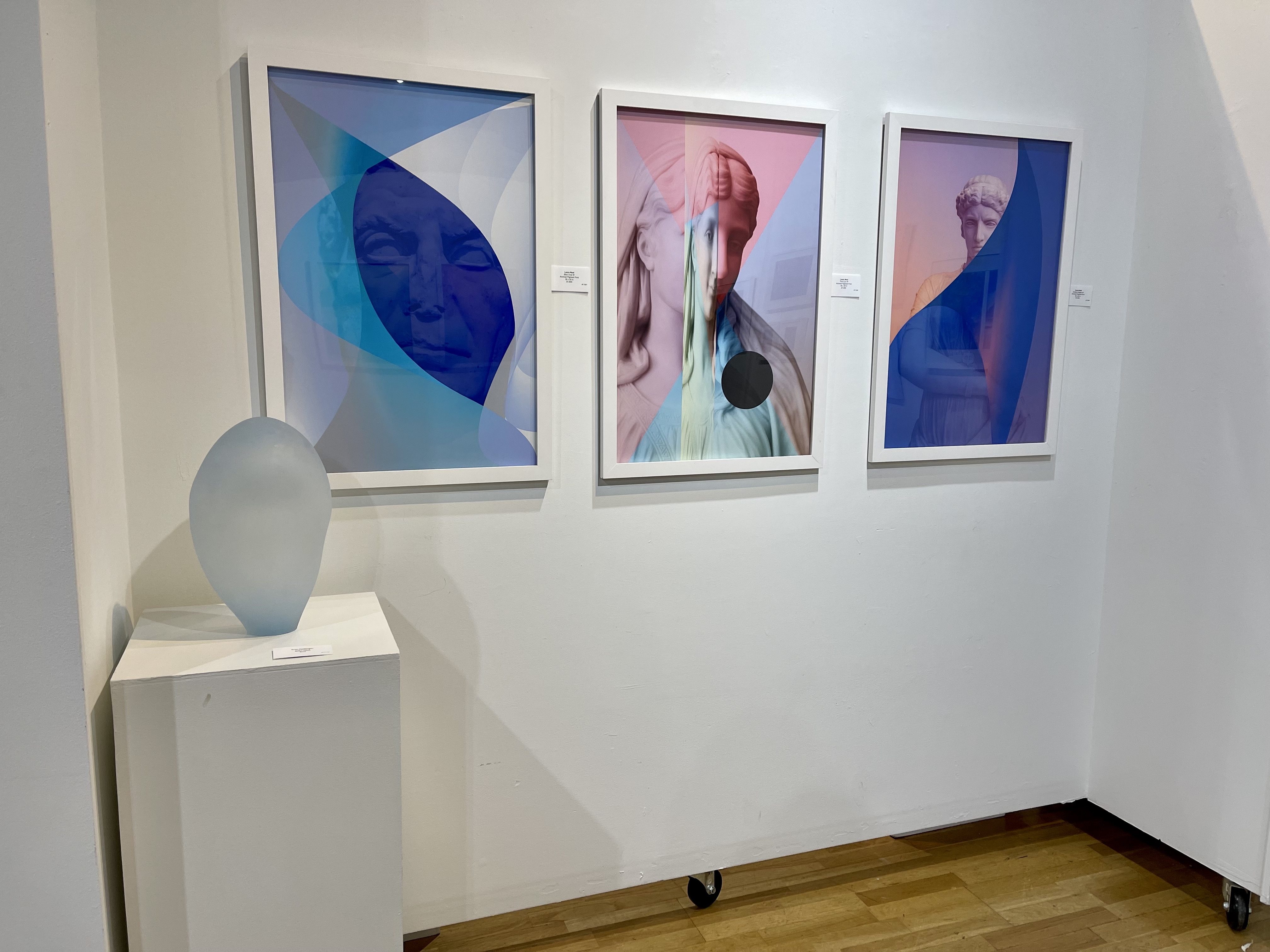 Beloved dk Gallery photographer Lauren Chambers also exhibited some of her work in a fresh and experimental way. By collaborating with mirror artist Stacey Milburn, they were able to use mirrors as a canvas for Chambers' wildlife photography. "With mirror work, I originally liked making new mirrors look vintage by working with the reflective properties," Milburn explained. "Then I started making patterns with different colors and even incorporating images." The finished product of the two artists was truly distinctive work that added a new edge and reflective element that was mutually complementary. "I love how my photo of a cheetah is shaped like a claw mark on the mirror; it's very fitting," Chambers exclaimed.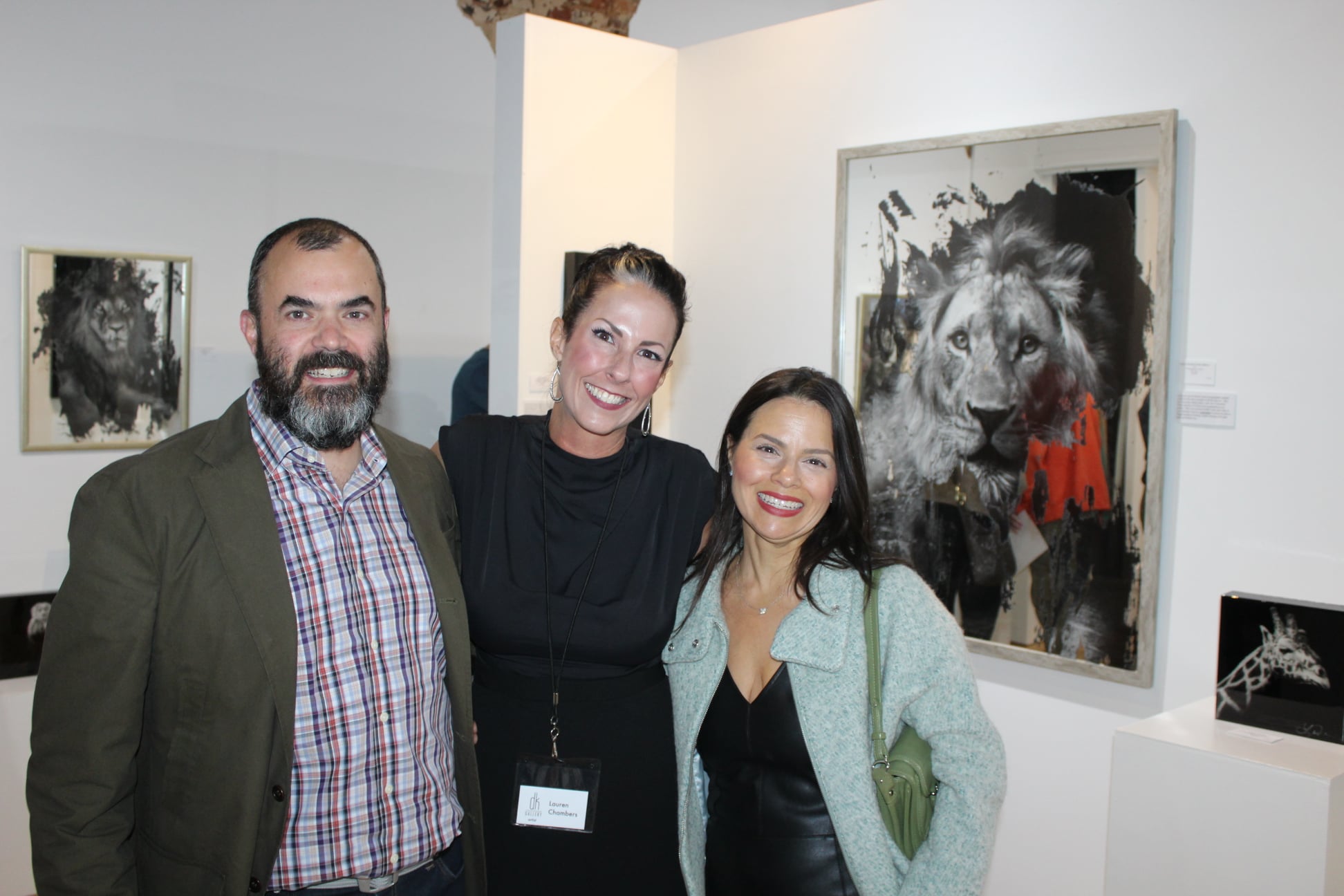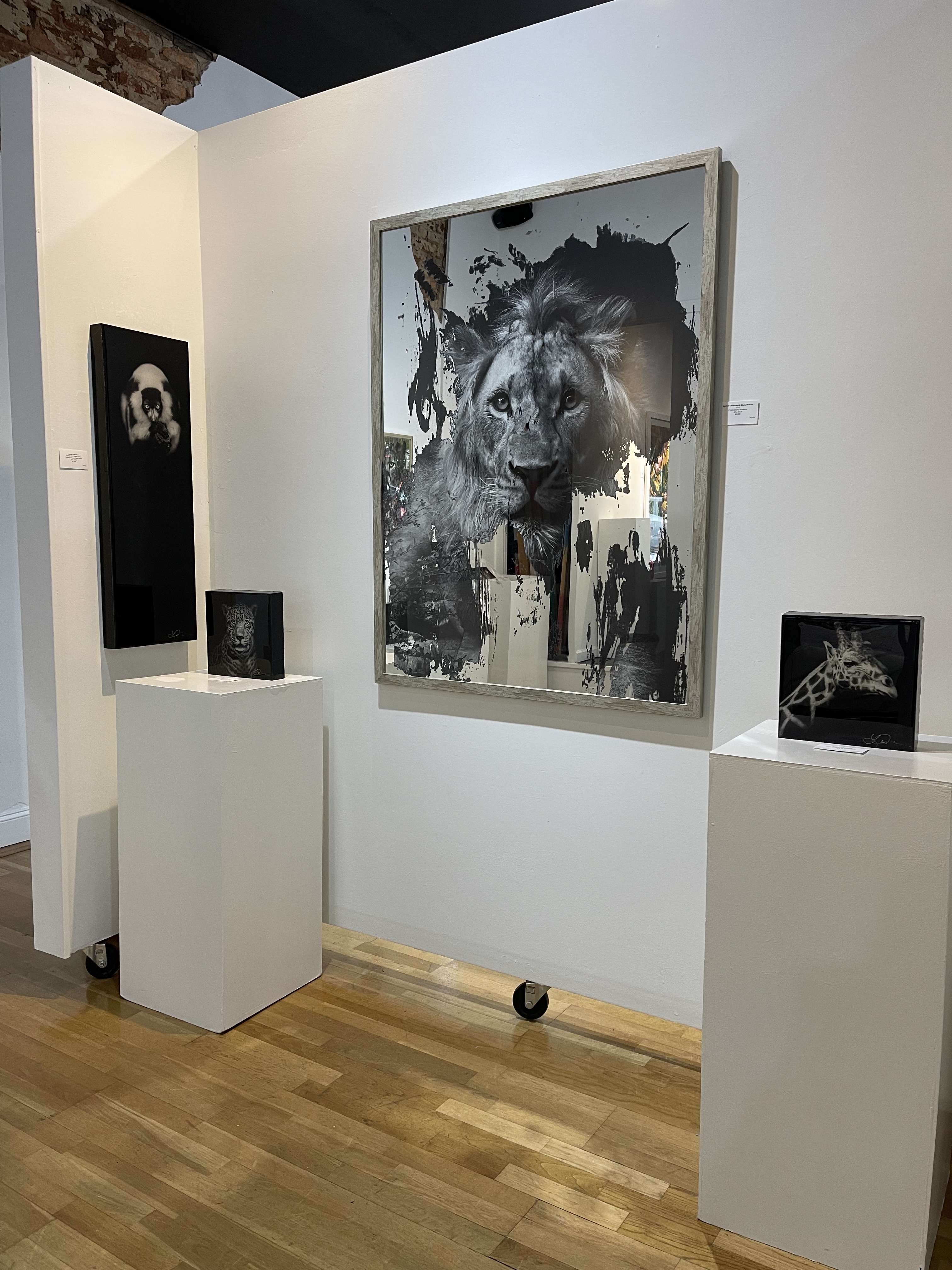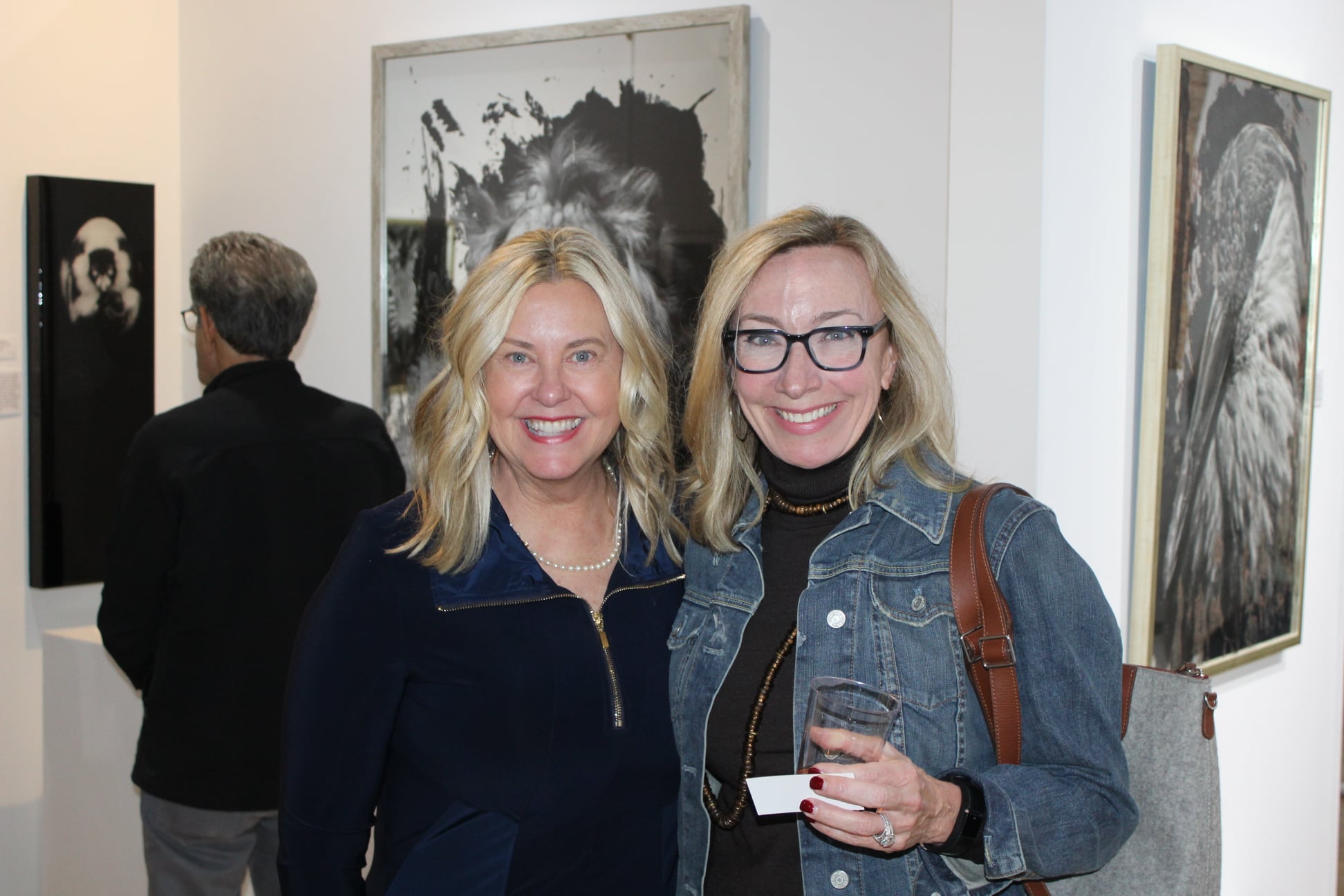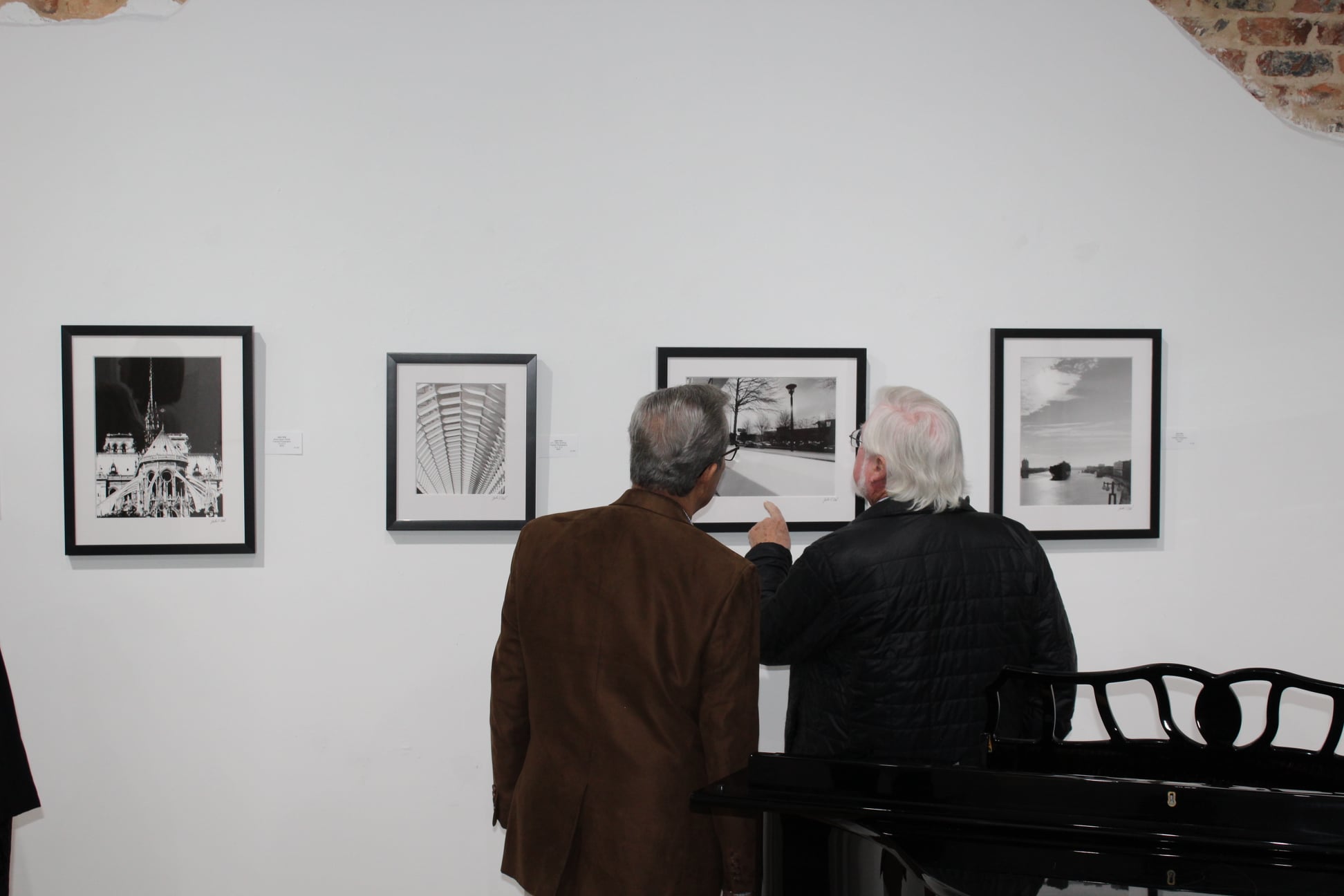 While Chambers' work exudes the beauty of natural life, the work of John Kirk was able to show the viewer the alluring intricacies of urban photography. Kirk has lived in various countries throughout his life including France and Germany; this gave him an appreciation for the visual appeal of cities and the various architectural styles they each have. He has been able to spend time traveling to different parts of the world, photographing hidden gems within their cities. Some examples shown in the gallery would be a dimly lit alley in Shanghai or a close-up of the complex design of an Atlanta office building. "Donna is great at putting on these shows," Kirk said. "She is able to conceptualize everything so well and bring together so much diverse talent." He has a very simple, yet profound approach to photography; Kirk believes that the most difficult part about being a photographer is deciding to become one. People tend to worry about their work not being original but everyone sees the world differently. If one keeps shooting what they find appealing, then originality will always come out of it. "Just shoot what you like," Kirk said.
Two incredibly talented photographers who were unable to be present at the show were Susan Richman and Brooke Shaden. Richman's work enthralled guests in the way she is able to blend colors to have her photos give off the feel of a painting. Everyone was delighted to discover something new about her images the longer they looked at them. The work of Shaden was also a captivating treat to guests; they are thought provoking and invite the viewer to create their own meaning. Some of her work is delicate while others are almost confrontational, allowing one to accept feelings of fear and perhaps, sadness. The pieces of these two artists were groundbreaking and a wonderful addition to the show.


The energy in dk Gallery was filled with curiosity and appreciation, perfect for a show exhibiting photography. The gallery is always aiming to introduce fresh works to the Marietta community and push its guests out of their comfort zones. Lars Finderup, who has been coming to dk Gallery since it first opened, was surprised when he learned that the gallery would be doing a photography-only show for November. He thought this was very bold and daring, so he had to see the work that would be shown. He ended up being blown away. He stated that it can be very easy for a gallery to fall into the trap of knowing what sells and sticking with that formula; this comes at the expense of never taking risks and evolving. He believes the beauty of dk Gallery is in how it constantly wants to represent talented artists while simultaneously remaining broad-minded– always looking ahead. "dk Gallery changed the game," Finderup said. "It challenges itself, evolves, and excites."