Wyanne Thompson: Art Imitating Life
1/7/2021
Written by Molly Brown, Video by Harrison Meyer & Logan Thompson
Brightly colored paint coupled with intricate details cover every inch of the canvas; shapes can be seen as various plants while others are left to personal interpretation. Each piece stirs something deep within the viewer and demands a certain vivacity towards simple beauty. One would assume that the creator of these pieces would have an incredible zest for life, and they would be correct. These poignant works are a direct reflection of artist Wyanne Thompson's spirit and her inspirational outlook on life. Wyanne's work will be showcased in dk Gallery's January Show, I Know To Be True.
Ever since childhood, Wyanne has been a creative soul as she remembers playing with every kind of craft kit. Having been adopted as a baby, she became curious about her biological parents. At the age of twelve, Wyanne learned that her birth mother was an artist and she thought this sounded incredibly glamorous. This resulted in Wyanne aspiring to be just like her mom and she bought a sketchbook along with some charcoal. Throughout her life, Wyanne has experimented with different mediums but she favors any type of paint; a medium that is flowing and water based is what she adores. She believes that pushing the limits is what keeps work exciting and she constantly searches for ways to expand. As long as Wyanne is creating, she is truly content.
In 2013, Wyanne's life took an unexpected and frightening turn. Despite previously being a relatively healthy person, she was diagnosed with Stage IV oral cancer. What followed was a grueling year-long battle for Wyanne, involving a difficult treatment process and the complete loss of her tongue. Despite the numerous obstacles and low points, Wyanne's determined spirit helped her win her battle with cancer. Wyanne recalls her journey with cancer as a wake up call as it altered her perspective on life. She realized that she had been on autopilot for most of her life and was hesitant to dream big or take risks. Wyanne now strives to relish in the small aspects that make life matter and see beauty in the seemingly insignificant.
This new outlook on life resulted in Wyanne's art undergoing a transformation as well. After receiving her diagnosis, she recalls driving home and looking out the window at all the colors, beauty, and energy of life. All of the brightness seemed to vibrate and she wondered why she had never noticed anything like that before. That was when she decided that once she beat cancer, she would only paint how she saw life that day. Before cancer, she primarily painted small pieces; she desired to paint larger, more abstract works but was too scared to try. During Wyanne's time in the hospital, her children would bring her watercolors and paper. Due to a lack of mobility from her various surgeries, she could only paint blobs of color. Wyanne had never painted anything like this before, and yet, it was so beautiful to her; this gave her hope for the future. She decided that as long as she could paint, everything would be alright no matter what cancer had taken from her. Now, Wyanne's paintings are a love letter of gratitude and appreciation for this new Iife she has been given.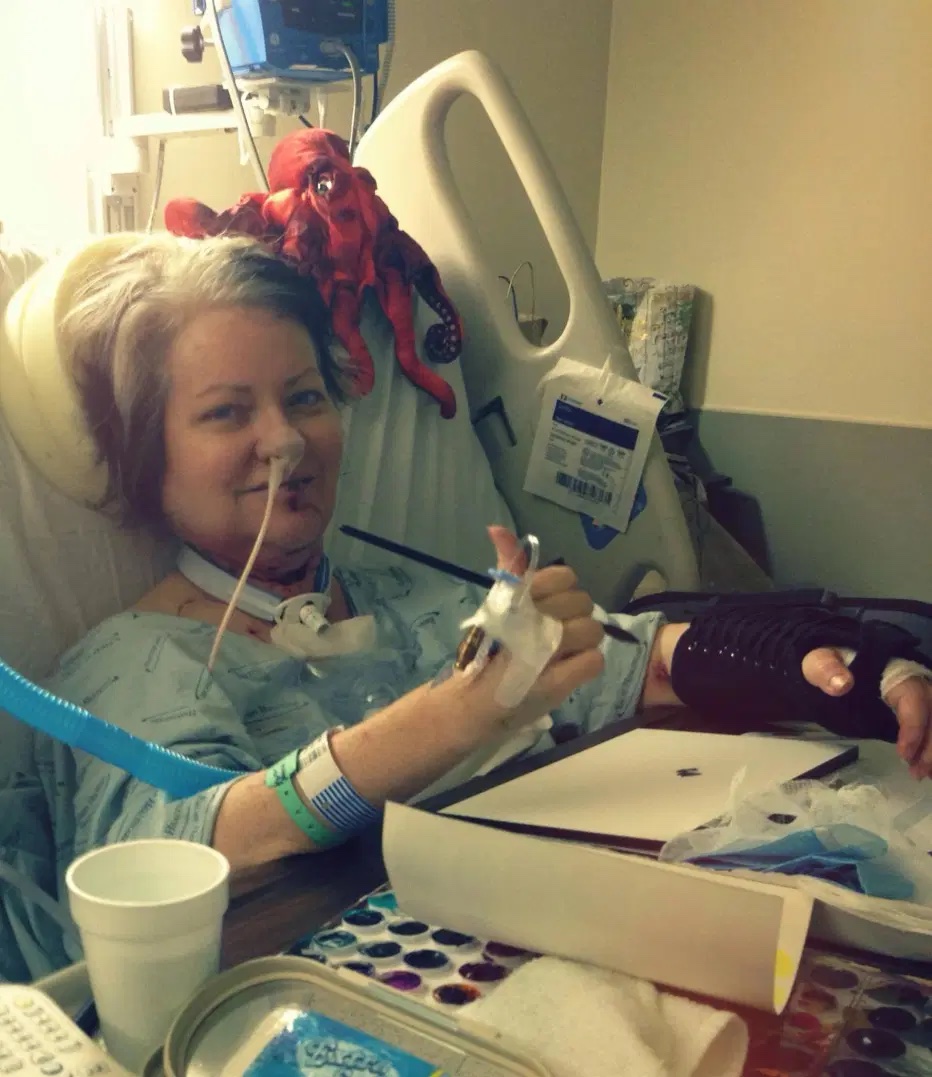 If one looks at Wyanne's paintings, they can immediately feel the spiritedness for life that she so strongly portrays. Many of her pieces depict plants, both on land and in the sea. Wyanne says her love of plants first came from her aunt's flower shop where she regularly visited as a child. She admittedly states she had a brown thumb as she was too busy to ever take care of any kind plant. After becoming homebound due to cancer, her life slowed down; this allowed plants to become a part of her life again. Wyanne's studio gradually became filled with them and she felt their beauty was healing. Today, her home is filled with plants, orchids, and twelve aquariums with live fish. Wyanne says it is her zen and she finds daily inspiration, comfort, and peace with the plants; therefore, that is what she paints.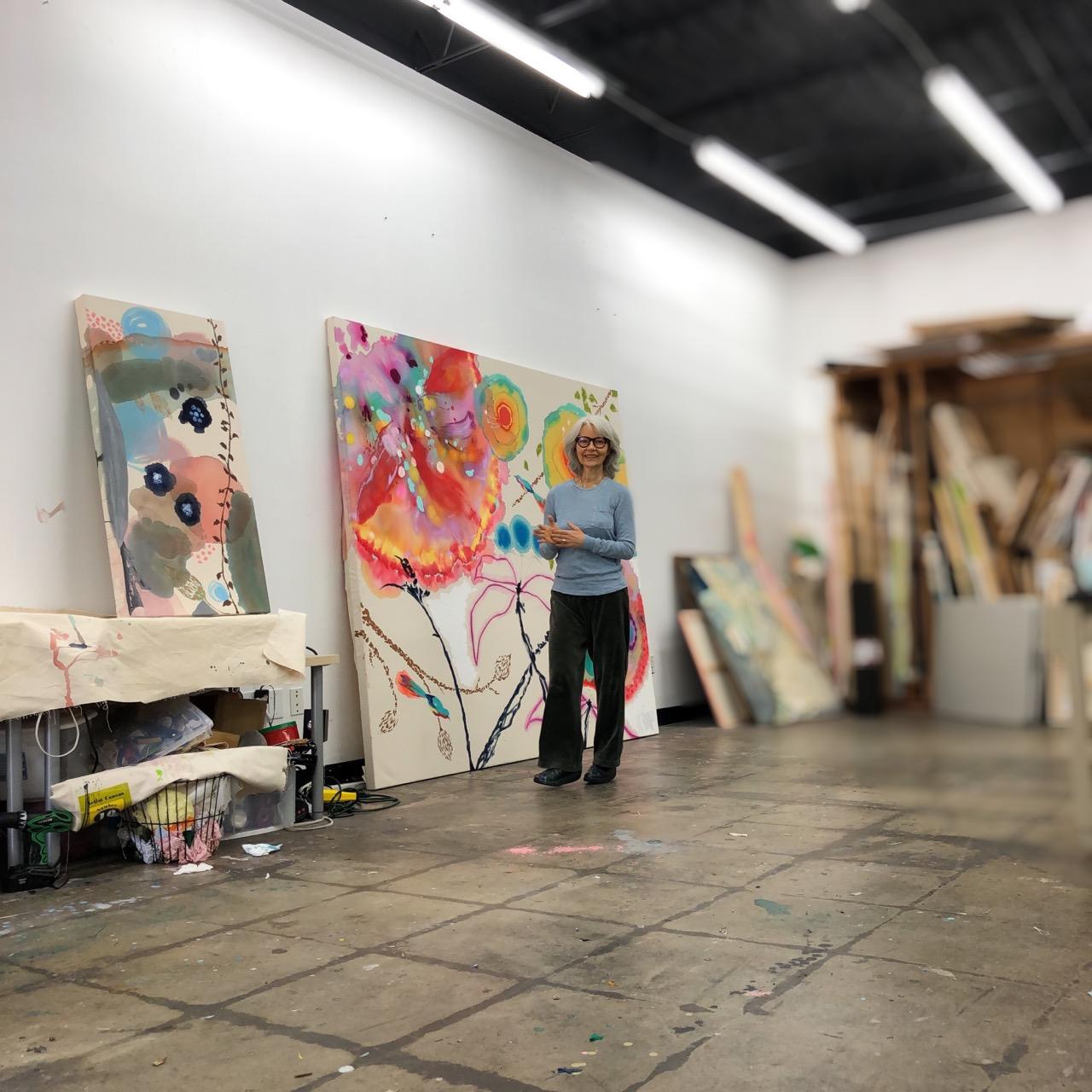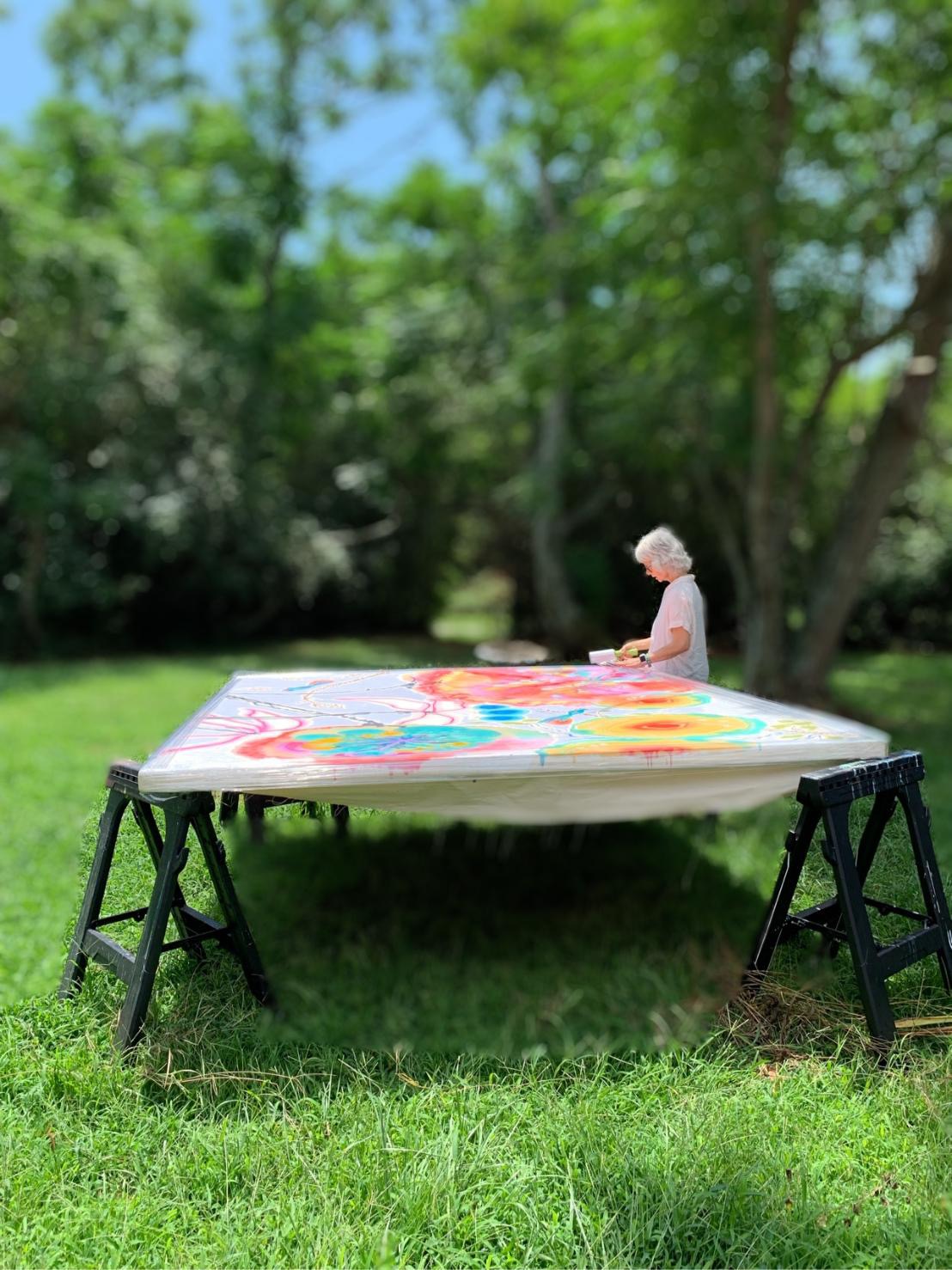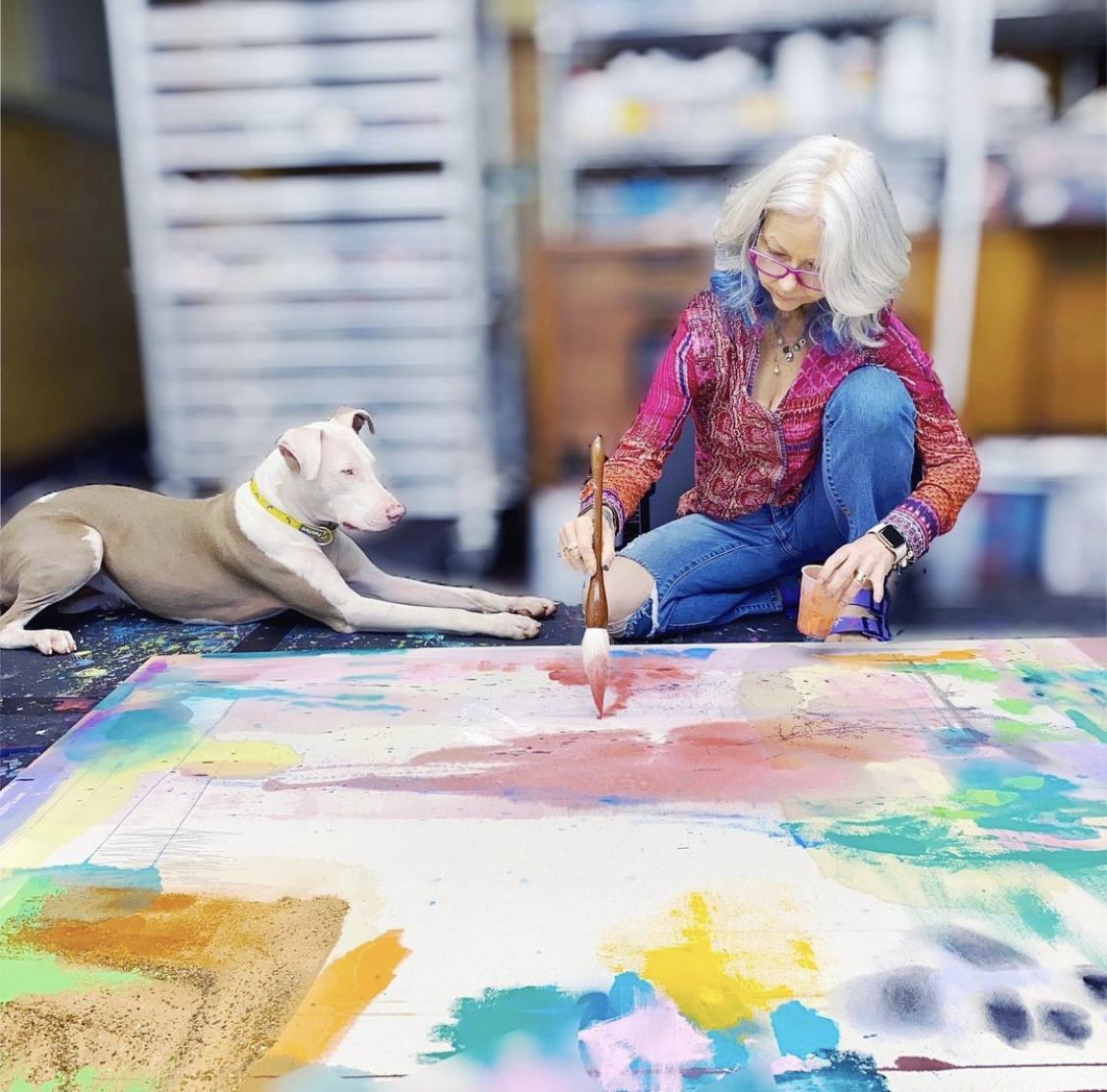 Wyanne first came across dk Gallery a year after becoming cancer free while taking a trip to various galleries around Atlanta. The minute she stepped through the door, she felt a connection and immediately set a goal to exhibit her work there one day. Within the next year or two, Wyanne moved out of her home studio and into a larger one in Atlanta. One day there was a knock on her door and upon answering, Wyanne recognized it to be Donna Krueger, the owner of dk Gallery. Krueger was visiting Lauren Pallotta Stumberg, another artist in the same complex, and had asked if there were any other artists she would recommend. Wyanne was shocked as her studio was a mess with various paintings in progress all over the floor. However, Krueger loved Wyanne's work and the both of them became fast friends. Wyanne is very grateful to have dk Gallery in her corner as it allows her to concentrate on what she loves doing most: painting.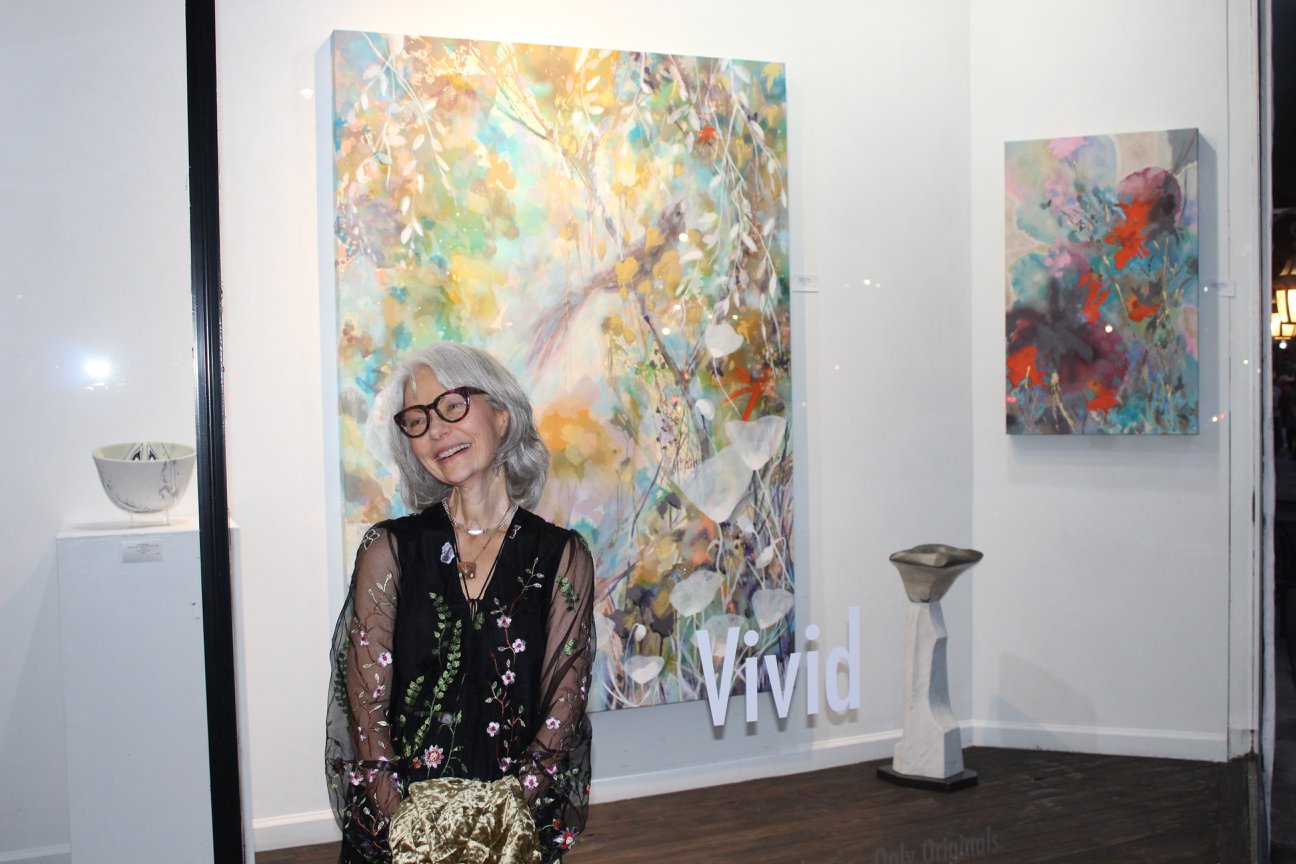 Wyanne is delighted to see her work together in dk Gallery's January show. She states that she will be showing large, round paintings on canvas for the first time; she loves how the round shape allows the viewer to experience the painting without corners. Wyanne has also started to incorporate burning into some of her paintings as she loves the thrill of burning the canvas just enough to leave a mark without jeopardizing the integrity and strength. The idea came from her radiation treatment; Wyanne recounts this as the hardest part of her cancer journey, but without it, she may not have made it through. Regarding future work, Wyanne said there are so many things she wants to try that sometimes she has to reign herself in. Her ultimate goal is to continue refining her skills with paint and challenge herself every day.

Along with being a full-time artist for most of her life, Wyanne has also been teaching art classes for sixteen years. At first, it was to supplement her income but now, she feels as if it is about giving back and keeping art alive. Wyanne loves igniting someone's passion for art and teaching about its healing abilities for the viewer as well as the creator. She states that being a full-time artist can be a lonely existence due to the fact that she works in isolation a majority of the time. Teaching online gives Wyanne the opportunity to interact with others. She has also found that it helps her learn to talk clearer with her speech impediment that resulted from the loss of her tongue. She is grateful that she can still share her passion with other artists as art needs no words.
It is without a doubt that Wyanne carries an amount of wisdom and adoration for life that many people aspire to obtain. One could compare her work to a phoenix rising from the ashes; through the obstacles she faced, Wyanne was given a renewed perspective and is now able to create alluring work to captivate others. Perhaps by seeing life through Wyanne's eyes, people can be reminded of just how beautiful it really is. The advice Wyanne would give to others, whether they are aspiring artists or not, is that everyone is stronger than they think. Above all, she emphasized the importance of believing in oneself and being thankful for every minute in this life. She draws on a quote from Omar Khayyam, "Be happy for this moment. This moment is your life."